STATE OF THE CLASS - MAY 2016

The class Executive Committee was much saddened by the passing of Class President Hank Mustin. As has been reported before, Vice President Mal MacKinnon has become President, and Ted Parker has been elected Vice President in his place.

The Executive Committee then moved to consider the future of the Class Association. Before he died, Hank Mustin had directed Robin Pirie to form a committee to consider longer range options, and particularly the turnover of class assets and business to the U.S. Naval Academy Alumni Association on the 70th anniversary of our graduation. Investigation, mainly by Ted Parker, revealed that the USNAAA has no set procedure of such a turnover, and that some of the services now provided by our class association, such as website, periodic newsletters, obituary notices and funeral or graveside flowers would not be continued.
The Executive Committee unanimously concluded that it wished to continue to provide all present services to the class for as long as we have volunteers and money to do so. We note that many classes have organizations and have reunions past the 70 year mark. We are determined to do the same.

To continue with all current services we will need continuing dues contributions from the members of our association. The year we began dues some 318 classmates paid their dues, and we started with a healthy balance. That number has since declined annually, until this year fewer than 90 of our number have paid to date. We need a more robust response. Our original planning estimate was that better than 200 would respond each year. Dues are $20.00 per year, or $200 for a life membership (which will never be a better bargain than it is today, and is a gratefully received wager that we'll still be doing this well into the future). Of course contributions, other than dues, are welcome at any time. $55 has a nice ring to it.
Send your dues and contributions to Robin Pirie, 4405 Stanford Street, Chevy Chase, MD 20815-5207. Checks should be made out to: USNA Class of 1955.
Class Annual Letter February 2016

2016 GREETINGS AND SALUTATIONS
This is my tenth Annual Letter to the Class designed to inform you of what has transpired during the previous year and what we have planned for the out years. While much of the information has been available via email/web site/regular mail and through our column in Shipmate, the purpose of this letter is to reach the entire Class in summary form. Contained herein are: major events/activities that occurred during 2015, and actions taken by the Executive Committee. An update of information regarding key '55 Points of Contact (POC's) and Executive Committee members can be found on our web site, http://1955.usnaclasses.com, as well as a Calendar of Class Events (mostly in DC area) for the coming year.
CLASS COINS
The 60th Anniversary coins we procured in 2014 were distributed in January to dues paid members. After that the remaining coins were offered for sale. Finally, the residual coins were sent to individuals purchasing class raffle tickets until all were gone. Many complimentary comments were received about the coins.
60th REUNION
The great Class 60th Reunion was held in Coronado, CA from April 28 to May 3. A complete report from Ned Floyd was printed in the September Newsletter. Repeated here is that the attendees had a wonderful time and many thanks are provided again to Ned and his committee.
CLASS RAFFLE
In late summer, inspired by Jerry Nay, the class initiated a raffle as a fund raiser and also to drum up some spirit. Purchase price for one raffle ticket was set at $19.55 (you can guess why) and three prizes were established. First Prize: A chance to win a porthole clock as shown below, engraved with "Class of 1955, 60th Homecoming"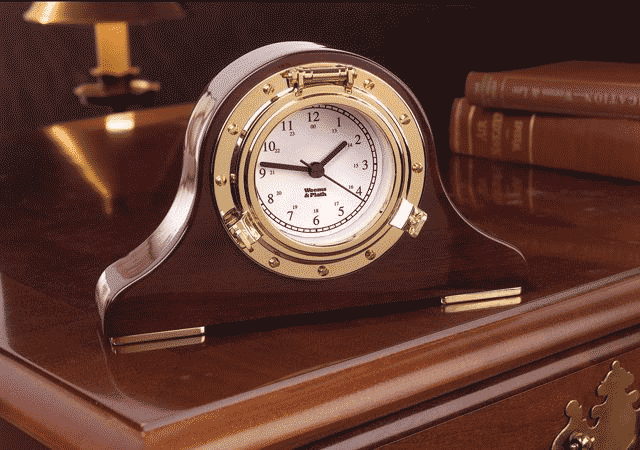 Second Prize: A framed picture which includes our Class book 'OUR LEGACY', CD and Class Coin, shown below (left). Third Prize: A lucky third place winner will receive a framed color picture of the USNA Chapel, also shown below (right).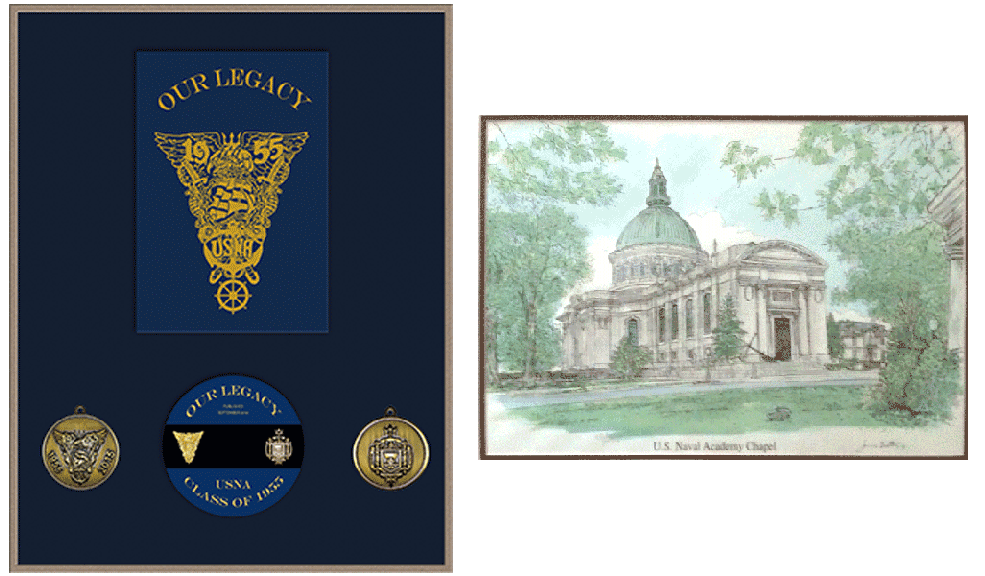 Each person purchasing raffle tickets was also sent a class coin and a CD of Our Legacy book (as long as supplies lasted). The winners were selected at a drawing held during the 60th Anniversary Homecoming Dinner, and were:
1st Prize - Andy Wilkinson (17) not present at the dinner, prize shipped
2nd Prize - Ed Bossart (6) not present at the dinner, prize shipped
3rd Prize - Nancy Kellerman (Don (7)) present at the dinner, prize delivered in person
60th ANNIVERSARY HOMECOMING DINNER
As a further celebration of our 60th year since graduation, a special dinner was organized to occur in Annapolis during Homecoming weekend. Ted Parker volunteered to work on this project, and did a magnificent job setting up a dinner at the Naval Academy Club after the Homecoming football game with Tulane (Navy won) on 24 October. Due to construction activities on the Yard which created parking problems, Ted also arranged for an alternate parking location and a shuttle bus to get us to the club. As noted before, the drawing for the Class Raffle winners occurred during the dinner.
| | |
| --- | --- |
| Dinner at the Club | Jerry Nay and Hank Mustin conduct Raffle drawing |
TREASURER REPORT – Time for 2016 Dues!
As of the end of 2015 the class had $27.992.75 in its local bank account, and $4729.00 on deposit with the USNA Foundation. The good news is that class dues in 2015 totaled $5200. The not so good news is that only 126 classmates made dues contributions. As has been reported here before, in order for us to sustain a program of class newsletters, flowers to departed classmates, and maintenance of the website and register we need something on the order of 200 members chipping in each year. Our established plan is to continue providing services at the present level until the functions of the Class Association are turned over to the Alumni Association on the 70th anniversary of our graduation. To keep us going until then we need better dues-paying participation. Please get your 2016 dues in to Robin Pirie promptly this year. And thanks.
PLANNING FOR THE FUTURE
The 65th Reunion will be held in Annapolis. Are there any volunteers to organize it? Thorough research and planning are getting started concerning turnover of class business to the Alumni Association at or after the 70th Reunion in 2025.
IN MEMORIAM
We lost the following classmates in 2015: Ballew, Charles W. (2), Everett, James D. (20), Foran, John J. (1), Fullinwider, Jr., Simon P. (1), Gattuso, Joseph A. (22), Hammett, David M. (13), Henseler, Richard C. (6), Higgs, Robert J. (1), Lawniczac, Jr., George E. (24), McCally, Kenneth R. (7), McNish, John E. (14), Mlekush, Matt C. (9), Morgan, John R. (3), Plumly, Charles M. (16), Ribbe, Richard H. (5), Scott, Jr., Roger F. (5), Shumaker, Carl (Clif) (17), Wade, Jr., Seaborn H.(7), Warren, Frank B.(10), Westbrook, Jr., Darrel E. (10)
The Executive Committee joins me in wishing all of you a great New Year.
All the best.
Hank
                                                                                                     
_______________________________________________________________________________________________________________________________