PRESIDENT'S MESSAGE 2019

Happy New Year Classmates!! Class officers and Executive Committee members hope that all of you will have a good 2019 and plan, if you are able, to attend our 65th Reunion in April of 2020.

This is the Thirteenth Annual Letter that has been sent since their beginning. It is designed to inform you of what has transpired during the previous year and what we have planned for the out years. While much of the information has been available via email/web site/regular mail and through our column in Shipmate, the purpose of this letter is to reach the entire Class in summary form. Contained herein are: major events/activities that occurred during 2018, and actions taken by the Executive Committee. An update of information regarding key '55 Points of Contact (POC's) and Executive Committee members can be found on our web site, http://1955.usnaclasses.com, as well as information about Class Social Events (mostly in DC area) for the coming year.

We were recently notified by the U. S. Naval Academy Alumni Association that a classmate who desires to remain anonymous donated a $1.5 million gift to the new U. S. Naval Academy Alumni Association and Foundation Center. This will be a new building to be located across King George St. from the Baseball Stadium, and will house the Alumni Association and Foundation under one roof for the first time. Our benevolent and anonymous classmate has the privilege of naming a large room to be the Lobby of the new building and has passed this naming right to the Class of 1955. This offer was considered by the Executive Committee and after discussion it voted unanimously to have it named after our class as a whole as The Class of 1955 Lobby.

Be assured that the class officers and Executive Committee are determined to continue to provide services, including memorial flowers, newsletters, website and class directory as long as we (and the money) last.

As a final note, the class officers encourage the gathering of classmates with those nearby classmates who would like to get together for lunch or other activities. The Washington, DC area group gets together monthly and considers it a very good thing to do so. We have classmates living in all sorts of places, and perhaps monthly meetings would not be feasible, but we hope that you give it a try. Let us know if we can help you locate a classmate near you that you might get together with.
Ted
CHANGE OF LEADERSHIP - MARCH 2018
Class President, RADM Malcolm MacKinnon, III, USN (Ret.) determined that, due to health concerns, it would be best for the class if he stepped down. The Class Executive Committee was saddened to hear this news but received it with understanding. As a result, on March 14, 2018, the Executive Committee approved the Class Vice President, VADM J. Theodore Parker, USN (Ret.), to move up to the position of Class President. At the same time, the Office of Vice President was refilled by the appointment of RADM Robert R. Fountain, USN (Ret.).
DISTINGUISHED GRADUATE NOMINATION
In October Vice President Bob Fountain, on behalf of the Class and with the unanimous support of the Executive Committee, signed out a nomination letter for Ted Parker to be recognized as a Distinguished Graduate of the Naval Academy. Ted's many significant contributions to the Navy, to the Naval Academy and to our class certainly substantiate this nomination. Regretfully, in December we learned that Ted was not selected for this honor.
65th REUNION PLANNING UPDATE
Reunion planning is now almost complete. Final details and cost projections will be completed in January and a detailed information package, "The Gouge," will be sent to all hands at that time. Based on the excellent survey response last May your Committee, consisting of Bob Fountain, Chairman and Tom Stallman, Robin Pirie and Denny Sullivan, members, is proceeding with the expectation that at least 75 classmates will attend who, together with family members and friends will raise the total attendance to 150 people or more. Since none of the Committee members is resident in Annapolis a husband/wife team of David Wright '61 and Ginny Pusey has been engaged to handle the details of the Reunion for us as Reunion Coordinators. Lucy Mustin has agreed to serve as point-of-contact for widows of Classmates who may be considering attending, as they are encouraged to do. Don Sturtz with Bruce Newell is planning the Memorial service in the Chapel. Volunteers are still needed to assist with check-in, hospitality suite staffing and Company/Battalion function organizers. In view of the increasing "maturity" of many of our Classmates a less than packed but first-class reunion is planned, focused primarily on renewing old acquaintances and refamiliarization with the Naval Academy after 10 years or more. The reunion cost has been held under $300 per person plus room costs. Almost all responding to our survey indicated they planned to stay at our reunion headquarters, the DoubleTree Hotel of Annapolis, out near Parole, with group transportation to scheduled events on the Yard. Registration will open at the DoubleTree in April and early reservation is recommended. Reservations for the Reunion itself will be handled for us by the Alumni Association beginning in July.
TREASURER'S REPORT
As of the end of 2018 the class had $31,939.11 in its local bank account, and $4,830.01 on deposit with the USNA Foundation. During the year we have expended $5,256.22 as follows: Flowers $1,367.30, newsletters (1) $818.92, BR $2,070 and reunion advance, $1,000. The response to last year's appeal for class dues was much better than the year before. 85 classmates responded, with total contributions of $5,575. As a result our bank account has increased slightly. The ExCom is still determined to remain in business until we run out of people or money, and thanks to the generosity of some of our classmates we will be able to provide memorial flowers and timely newsletters for more than a few more years. We currently have about 323 living members of the 742 who graduated in 1955. Of that number 114 are life members, and need not contribute annual dues unless they insist. The remaining 209 can easily keep us afloat with dues and contributions. Get your 2019 dues in today, and if you missed 2018, throw that in too; or, if undecided just sign up for a $200 life membership. Make checks out to Class of 1955 and mail to Robin Pirie at 4405 Stanford St. Chevy Chase, MD 20815-5207.
HOME FOOTBALL GAME TAILGATES NO MORE
Many of those who have supported the tailgates in the past have moved away or aged out, leaving too small a number to continue. We have thanked the Hines for their faithful food support and retreated to our TV sets.
IN MEMORIAM
We lost the following 15 classmates in 2018: John A. Adams (12), Joseph E. Armstrong (12), Leonard "Tony" Bracken (20), James R. Dunbar (18), Clifford R. Graue (2), Donal E. McGonegal (19), Robert Todd Meloy (14), Peter W. Odgers (13), Joel D. Patterson (2), Stanley S. Skorupski, Jr. (23), Gary L. Snyder (1), Lee R. Turner, Jr. (7), Donald W. Walter (4), John R. Wilson, Jr. (17), John W. Wynne (5)
BILL ANDERS HONORED
The International Astronomical Union has named two moon craters in honor of the Apollo 8 mission to the moon in 1968. The larger is named Anders' Earthrise and the smaller 8 Homeward. Both are visible in the iconic image shot by Apollo 8 astronaut William Anders.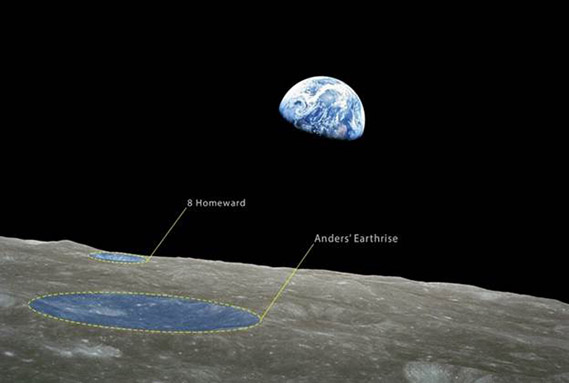 SOCIAL EVENTS
The DC area luncheons are held the second Wednesday of each month at Portofino Restaurant at 1130. Our ladies will be specially invited to the Spring Luncheon, the July luncheon at Pirate's Cove Restaurant and the December Christmas Luncheon. Full Social Calendar is on the website.